WELCOME TO
HIGH POINT YACHT FEST SAILING REGATTAS!
---
At High Point Yacht Fest sailing regattas, we gather people who enjoy sailing and regattas, visiting places and experiencing different cultures. We create a 'platform' for them to socialize, have fun and enjoy spending time together. We prepare meals on board and share them. We race and have fun competing. But we also make time for other activities, swimming, snorkelling, water sports or exploring local areas. We support each other and make friends.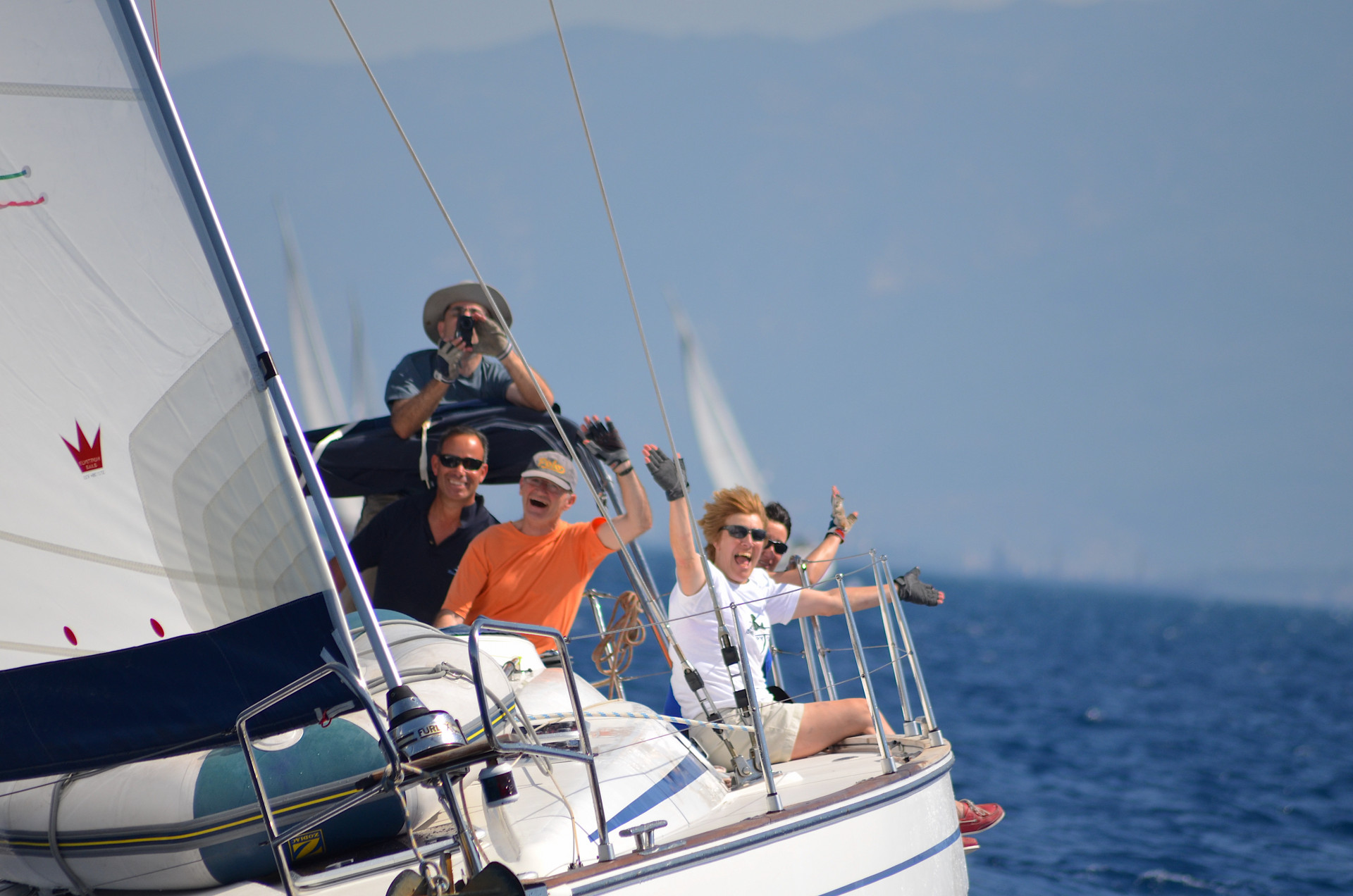 Your sailing regattas reviews
There's something unique and very special about what Sasha and John have created. Great sailing, lots of fun, all with 💜. Thanks for your magic 😘 Shivaun ... Absolutely! Many thanks as always to John, Sasha and Dave for another great week. Denis has been breathing on our trophy and then polishing it 😂😂 Safe travels to all. 😘💐💐🍾🥂⛵⛵ Mary
Sasha, John and other key people of HPYF: very many thanks for the organisation of a fantastic week of sailing, eating, drinking, talking, dancing! De geest family
Thanks to all of you from THA team for your kindness and the wonderful week we have spent. Huge thanks to Sasha and John !!!! You are real professional of that kind of event !! Enjoy now a deserved rest ! Arrivederci ! THA team
Thanks Sasha and John for this marvellous week! The best compliment i can give you is that my entire crew wishes to come back next year! In the meantime we stick to our favourite cocktails: 'Port and Starbord! Stay well everybody. Lutz
Sasha, John, Dougie, all, 'The Young ones' of Zoe add out thanks to Sasha and John and crew for making High Point such a great event each year and 2017 was no exception. And thanks to all the skippers and crews for keen racing and pre/après-race bonhomie. We missed Dougie of course, but our loss was the rabbit's gain although this year we weren't watching it disappear into the distance! Fenella was unavoidably detained elsewhere but James made an excellent replacement and our best result was when he was on the helm. Evert was our key man again, Irina is learning fast and remarkably powerful on the winches; Cookie is always good to have on board and has a popular sideline in cooked breakfasts. We wait to hear the final decision on next year's venue. Best wishes Philip
Hi Sasha The sailing was magnificent. The cultural highlights were indeed that – the trip out on Vis (I've never towed 7 vampires before and never eaten such tasty octopus) and Stari Grad were real high points. The final party was lovely, I enjoyed the food. Any minor gripes pale however into insignificance against the general brilliance of the whole thing. It is a regular delight to sail alongside such a group, where friendship and good humour take precedence over the need to win at all costs. The balance of sailing to "free" time and the reactions to wind and weather were superbly judged to give, for me, the absolute optimum possible week of fun. Optimise the details by all means, but please don't change too much. I will be doing everything in my power to be there – wherever there may be – next year. Cheers nhoJ
Sasha, We'll give a more detailed feedback to you and John but shared observation is that our crew have really appreciated the ongoing and significant effort that you put in every day.  We have the sense that you are always striving for perfection on our behalf and that more often than not you nail it.  So our shared feedback is to please please continue to put in the selfless effort that you put in…. Thanks also to all the 'regulars'.  We feel privileged to be allowed out to play with you every September and hope that we also get to raise a glass with the like of Diane, Martin, David, Angela, Keith, and their crews next year.  Shukran!
Hi Sasha Wow thank you. We so enjoyed ourselves in the BVI. It is truly a wonderful location. It was great to be part of the High Point family again. We are always with you in spirit. Thank you once again for giving us the opportunity to sail in that magical place and for bringing the family together again. Any thoughts on next year ? Di and Martin x x x x
Sasha, Great pictures. John Hall Hall always does a very professional job. Appreciate the amount of effort that he puts in to creating the Log Book, and making each day a success no matter the weather. His knowledge about running a regatta coupled with your attention to detail, and we all know how hard that is to do for an event like this, makes it a wonderful experience. Thanks for everything, had a great time as usual. See you next year, Kim
It is about a certain magic I guess, our sailing event HPYF. If you are lucky to be drawn to it, you'll experience such fun and camaraderie that happiness will have a whole new dimension. We are under its spell forever, that's for sure!
Sasha, every single HPYF!
I'm sitting in my house in Scotland, zero degrees and snowing outside, looking at the dropbox photos. It seems like the dream I had with all of you in it has come back to reality. It was a huge privilege to be taking part in High Point 'pirates of the Caribbeanz', in such a stunning place, with all you lovely people. I have to convince myself that it was reality, that this is the dream and I'll wake up from it when I see you all in September in Sardinia.
Dougie, BVI Caribbean, March 2019
Des Sasha and John,
Once again a tremendous High Point week, thanks to you. The Pota Pota crew had an amazing time as always. I hope that John didn't mind the ribbing over the handicap too much, it was all done in good humour by us as we know how hard you work to try and keep everyone happy. Not a job I envy! The main thing for us is to enjoy the company, the sailing and the weather; if we can keep up with the rest of the fleet, it is an added bonus!
Thank you both.
Brigitte

 xx
Brigitte, September 2019

,
Hi, John, hi, Sasha! Thank you very much for the Souvenir! You are amazingly prolific as well as efficient! I also would like to thank you and Sasha for organizing the event, for the superb job you two did in making the regatta so pleasurable and easy for the rest of us, and for letting us come. Once I get around to uploading them I will send you a link to photos and video footage I took during the trip. Best regards, Vilmos
Good morning all and hi Sasha, Again many thanks to you, John and the HPYF crew for the very good organized party week with the 'family' again. And thank you to the HPYF family, we will miss you till upcoming event. We loved the week a lot again. Met vriendelijke groet, Caro
Was just awesome... another High Point forever branded on the back of my mind! Big hug Evert
Highpoint is a rare thing indeed. It's a magical mix of sailing and social. Racing is well planned but not too serious. I say that, but we're out for blood every time. Then, there's the social dimension. All boats eat together when they can.  We wander across the decks at the end of the day, having drinks, meeting new and old friends, reliving the efforts on the water and threatening winning strategies for the following day. There's a cookery competition where the bar is not too high. But the competitive spirit is. It's a lot of fun. I leave the week feeling elated, exhausted and in love with this great group of people - Sasha and John, the organisers plus all the wonderful sailors.
ABOUT US
---
We so enjoyed staging the 70-yacht sailing regattas, the Engineering Challenge Cup, in Göcek, Turkey, 2007 that we started our own sailing regattas. Sasha's extensive experience in sourcing yachts and meticulous organisation of sailing holidays is perfectly matched with John's many years as a Race Officer at international regattas. We put friendship, fun, courteous racing (for all levels of experience) and the enjoyment of local cultures at the core of High Point YachtFests.
Sasha King and John Hall Hall
(Co-founders)